WI-FI
Signal transfer from the camera and control over Wi-Fi . This functionality affords absolute mobility and enhances operation on site. The coverage for Wi-Fi encompasses 50 metres.
SECOND OBSERVER
This also allows for a second observer who can monitor activities on a smartphone, which is particularly useful when operating the camera in conjunction with a pipe cleaning vehicle.
A BATTERY-POWERED UNIT
it gives up to 14 hours of continuous operation per charge, with the added advantage of using standard external battery packs for hand tools. Since these come with different capacities, the operator is able to choose the battery best suited to the job.
CAPABLE OF OPERATION IN A HORIZONTAL POSITION
NThis ability proves extremely handy when the situation requires it.
ERGONOMICS AND SMALL SIZE
Our R&D team went about reducing the size of the push camera to such an extent it ended up being the smallest one on the market. During development we consulted with partners working in the trade on the environments in which the system would be used. As a consequence it can even pass through an opening in a skylight.
CAMERA HEAD VH33
DN50-DN150
Powerful LEDs installed. It has image balancing.
CAMERA HEAD RTH34
DN70-DN400
Rotating camera head. Powerful LEDs installed.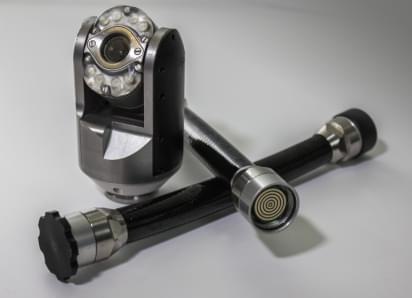 NEW FLEXIBLE CONNECTION
HEAD AND CABLE
It is an innovative solution. We have improved the passage of the camera head through the pipe in the pipe elbow. If the flexible connection remains bent after the passage, you can straighten it in a moment by simply pouring hot water over it. This is a memory effect reset.
INTERCHANGEABLE CABLE DRUMS WITH DIFFERENT RIGIDITY OF CABLE
TThis is of great importance when working with different diameters of pipes; e.g. cables of low rigidity are suitable for smaller pipes. Our quick-release cable drums can be swapped out in less than 1 minute. The cable drums are connected via an internal bus, which permits image transfer in up to Full HD quality.
PUSH CAMERA IS PART OF THE LATERAL SYSTEM
The PRIMARY COMPONENT OF THE SATELLITE CAMERA is the TechWorm push camera. All it takes for users who employ a cable reel and a crawler of model 305 or 315 is to purchase an optional adjustable arm as an add-on item, and they gain a fully functional satellite camera suitable for lateral pipes as a result. MORE INFO
LOCATING FUNCTION
The locating function determines the position of pipes from ground level via a transmitter incorporated in the camera head. This means the operator is able to monitor the progress of the unit through the pipe, a process made possible by a locator which registers its position and depth
MEANS OF CONTROL - TABLET.
MEANS OF CONTROL - TABLET:
MEANS OF CONTROL - CONTROL UNIT.
MEANS OF CONTROL - CONTROL UNIT